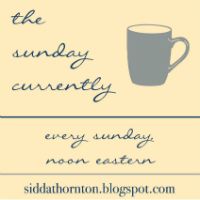 I'm currently. . .
Reading
Trash to Couture
! I found this blog when I was on Pinterest, Friday and I love it! Speaking of which, are you following me on
Pinterest
?
Writing up all my notes for finals. I can't use notes on everything, but it does help to write it down. My Literary Analysis and Composition final is tomorrow.
Listening
This cover Little Mix made!
I LOVE it, but can't find anywhere to buy it.
Thinking about Alice's Adventures in Wonderland choreography. Rehearsals have been going really well and they actually cancelled a lot of the planned ones.
Hoping my finals go well tomorrow and the rest of the week!
Wearing a sweatshirt at leggings. I just got out of bed!

Loving the carrot cake we made on Friday, that Little Mix song, Trash to Couture, and that we don't have rehearsal today. I don't think my feet could deal.
Wanting to go back to sleep. I'm exhausted.
Needing to ice my hamstrings! They're still sore from THURSDAY. That class definitely kicked my ass.


-Cassi

Don't forget to come back tomorrow and link-up your 5 Little Grins!!