It's definitely nice to be back to blogging. It was weird not blogging for so long, but we're back and I'm feeling a lot better! We just worked out our editorial calendar, and I've got to say, we have some pretty great posts lined up for you this month!
Starting tomorrow, we're back with the 28th edition of Five Little Grins! I can't believe it's been going for 7 months now. Will you be linking up?
Then, later this week we have an AWESOME giveaway to thank you all for getting us to 500 followers!
Today, I am currently. . . .
Writing a literary analysis essay. It's on Night by Elie Wiesel. I would be finished if conclusion paragraphs weren't a thing. I wish conclusion paragraphs weren't a thing. I hate conclusion paragraphs.
Reading Ruins by Dan Wells. I got through a good chunk of it last night while babysitting. I don't think I'm going to finish before it's due back at the library on Tuesday, though.
Listening to the parrot eat breakfast. Not only does she make a lot of noise while eating, it also creates a LOT of mess.
Thinking that I really need braces. All my front teeth are pretty much on top of each other. I wish there was something that could be done about my overbite too, but I was told by 3 people that my jaw would need to be broken and then get plastic surgery for it to be fixed.
Smelling the toaster waffles I just made. I really like toaster waffles- way more than normal waffles- and consider them a great breakfast. I'm going to make a great college student. . . but horrible adult.
Wishing for clearer skin. Having so many breakouts right now and it is extremely frustrating.
Loving having a quiet house. So relaxing.
Needing a cup of tea. My throat still hurts like a SOB
Feeling exhausted! Babysat for total strangers last night so I really had co clue what to expect going into it.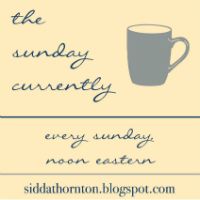 Make sure to come back tomorrow for 5 Little Grins!