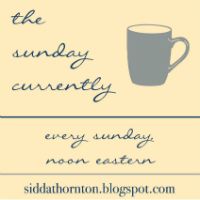 I'm currently. . .
Reading Going vintage by Lindsey Leavitt. I had also picked up on This Lullaby by Sarah Dessen earlier in the week, but this and a few Ned Vizzini books came in at the library. I finished Champion last week. Marie Lu did a really great job of ending the series. I really appreciate that she didn't kill everyone. (Looking at you Veronica Roth)
Writing blog posts. I almost have January all queued up. I even save my link-ups as drafts with the inlinkz html all ready to go!
Listening to my Spotify playlist, as always!
Loving that it is almost 2014! I think 2013 went well, but I'm so over it! haha

Needing to get some sleep. I'm exhausted!

Tomorrow is the last Five Little Grins link-up of the year! Make sure you come back and link up with us! :)

-Cassi