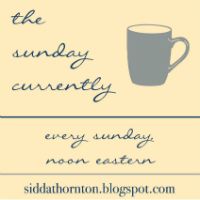 Linking-up for
the Sunday Currently
for my second time! Yesterday I had my first rehearsal of the season for Alice in Wonderland. The snow wound up delaying our director's flight, so all the little kid's rehearsals before ours were cancelled. Luckily, we got everything we needed to done. We have rehearsal again later today so hopefully it will go well again.
I'm currently. . .
Writing another essay for school. Well, I have the outline done. I should be writing my draft.
Listening to my Spotify playlist. I downloaded the app on my phone and got a free 48 hour trial of premium!
Smelling
these candles I got from
Melissa
! Found the package on our porch yesterday when shoveling. Apparently USPS decided not to ring the door bell haha.
Wearing a leo, tights, leggings, and a t-shirt.
Hoping rehearsal goes well today, especially with my pinky toe that got a blister yesterday.
Wanting saltine crackers. I don't know why, but they sound realllllly good right now.
That's about it for today! Don't forget to enter my giveaway and come back and link-up your 5 Little Grins for the week with me tomorrow!
-Cassi
a Rafflecopter giveaway