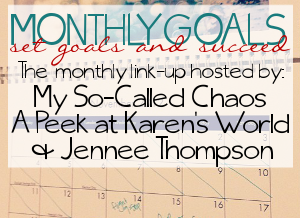 Blog every day in October (I've never done this for any other month, but so far it is going surprisingly well!)

Success! I wound up posting 39 times in October!

Stay on track, if not ahead for school

Success! Not behind at all!

Finally break in my pointe shoes

This still hasn't happened, but they're starting to die, so I'm thinking it isn't possible. Thankfully I'm going in for a fitting soon!

Actually paint my nails (or at least my toe nails)

Success! I painted my nails twice but they're back to plain because I took the nail polish off. Whoops

Wake up at 7:30-8ish regularly, if not earlier

Success! This happened during the week, but I was up around 6 on the weekends. . .

Start writing more

Didn't really happen

Continue writing down my 'Top 5' for each day before I go to bed

Yeah, this didn't happen

Send an awesome letter for this month's Post Exchange!

Success! Well, I think so! I haven't heard back from Jillian at all!

Finally figure out a good layout for my blog

I don't even know what I want anymore!

Sorry it's so late!
-Cassi